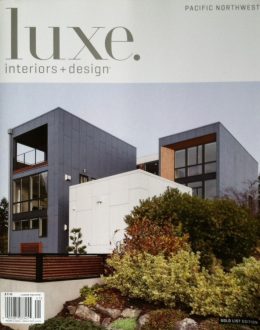 Fauntleroy
"What struck Julie and me about this home is the amazing integration of indoor and outdoor spaces.  So blended are they that the terms don't seem to make much sense here – a remarkable achievement on so small a piece of land with so small a house.  Landscape and building are components in a singular sculpture for living in.  It's truly a remarkable example of what katei, the all-encompassing Japanese term for 'house and garden', can really mean".
Sarah Susamka and Julie Moir Messervy
Outside The Not So Big House
The Taunton Press
Newton Connecticut, 2006
"What's outside the house informs our lives in a deeper way that anything we could purchase".  George Suyama
Metropolitan Home
November 2005, pgs 110-119
Staircase Study
"With all of the emphasis on earth and water, the house looks as though it grew out of a mountain stream"
Lindsey Rowe
Seattle Homes and Lifestyles
June 2009, pg. 59
"For more than two decades, landscape architect Bruce Hinckley quietly influenced Seattle's landscapes – until he was honored with his first Design Achievement Award for landscape architecture in 2003, receiving the public accolades he so richly deserved.  Now his designs have moved beyond the admiration once exclusive to the design community to a broader audience.  This popularity is partly due to his style of seamlessly fusing the architecture and the garden – so much so that it's nearly impossible to tell where one ends and the other begins.  It's a design principle that Hinckley has always abided by an is now being replicated by many of his peers – a basic design concept that is so simply Seattle".
Seattle Homes and Lifestyles
Seattle 100: The People, Places, and Things that Define Seattle Design
February 2009, pg. 92
"Bruce is the stealth missile of landscape architects.  For 22 years, the Seattle native has operated under the radar of periodicals and popular perception, quietly amassing a reputation as a designer's designer; the guy to whom architects go when they landscape their own homes".
Seattle Homes and Lifestyles
October 2003, pg. 43
"In an Olson Sundberg Kundig Allen – design house on Pleasure Point in Bellevue, Hinckley nearly erased the boundary between indoor and outdoor".
Northwest Home and Garden: "Light Show"
Winter 2003, pgs. 32-36
Pine Needle
Dow credits landscape architect Bruce Hinckley with the overall scheme for the site.  "Bruce had the concept from the beginning", says Dow.  "Luckily I just let him do it…though some things were kind of a gulp".  Like boom-craning dozens of mature Japanese Black Pines up the hill, and cutting back the main floor so the sight and sound of the water features can be enjoyed from both upstairs and downstairs.
Another gulp was digging deeply enough to daylight the homes lower level…now a dramatic cascade of water pours down a two story concrete retaining wall into a pool outside the media room.
"Bruce is a magician", says Dow.  "Without his landscape it'd just be a house with a big view".
The Seattle Times, Sunday Magazine
Pacific Northwest
6 April 2008, pgs 42-49
Suyama, A Complex Simplicity
Grant Hildebrand
University of Washington Press, Seattle, 2011
page 6:
"Each building works closely with its site, taking into account the vagaries of the local climate; the wind patterns over land forms, and water ways; the latitude, altitude, and proximity to water; the geomorphology, geology, topography, and ground surface water patterns; the flora; and the orientation, aspect, and prospect."
Glenn Murcutt, Architect
Order of Australia
Alvar Alto Medal, RAIA Gold Medal, AIA Gold Medal,
Pritzker Prize
page 6:
"Working closely with landscape architects, Suyama Peterson Deguchi ensure that their serene interiors work seamlessly with nature and the land, blurring boundaries between the interiors and the courtyards, verandas, and gardens.  Walls, decks, paving, ground textures, rocks, water, grasslands, and variously colored, textured, and scaled flora reinforce the connection between building and landscape."
Glenn Murcutt
page 6:
"Water is also used, both statically and actively, as a connecting element, weaving its way alongside entry spaces and adjacent to primary and secondary rooms, through sequences of still ponds, running, and falling water.  The water emits varying sounds, and washes walls and ceilings with shimmering reflections from the undulating surface."
Glenn Murcutt
page 73:
"in the spring of 1998, Suyama and Hinckley "showed up in a Land Rover and spent two hours crawling over every inch of the property, in car, on foot, and on their hands and knees".  They hiked the cove; the view from the eastern rock outcropping determined the arched form of the roof, as did the windswept dunes of American Camp Park; the house was to be a habitable "dune".
Scott and Frances McAdams
page 73:
"Contemplating the developed land to the west, "Bruce pulled his coat over his head and said, 'I want to be shielded from the neighborhood by something like this;" hence, the western concrete wall.
Scott and Frances McAdams
page 76:
…the western concrete bastion ensures that other houses nearby are neither seen nor sensed.  One is alone with the shelf of land that drops away to the sea.
Grant Hildebrand
page 78:
Fairway
"…a place of perfect peace".
Scott and Frances McAdams
page 84:
Fairway
"…the Schucharts, Suyama, and Hinckley…talked at length about the idea of camping, of being outdoors, gathered around the twilight fire.  Their shared goal was to minimize, as far as possible, all differences between the interior and exterior spaces, extending the character of the architecture into the landscape and bringing the character of the landscape into the architecture."
Grant Hildebrand
page 93:
The distinguishing strengths of the Schuchart design lie in its oneness with its site, and the extraordinary creativeness and craft of its details…
Grant Hildebrand
page 129:
Fauntleroy
All seems composed, all seems resolved.  Yet this is an architecture…rich in ambiguities and multivalences…Is the entry to the second courtyard the entry to the house, or is it a garden gate?…What of the space under the great roof, with fireplace and three walls but not four: is it a room, or a terrace, or a garden folly?  Do we consider it an exterior space, or is it interior?  Does it, in fact, have a fourth wall in the northern vegetation?
Yet these ambiguities and multivalences…are architectural in their essence; they derive from considerations of space and use and materials and site; they derive from the creating of open and contained, light and dark, up and down.  And they serve an ambiance…of resolution and tranquility.
Grant Hildebrand
page 138:
Epilogue
…it is impossible to envision the Schuchart or Fauntleroy houses as large-scale sculptural objects, nor is it easy to imagine for them any facade.  They are more experiences that objects and they are best understood not from any static viewpoint but by means of movement through their spaces, including their exterior spaces if in fact interior and exterior can be meaningfully distinguished.
Grant Hildebrand